Agios Gordios
Meet Agios Gordios… It might be your next holiday destination
AGIOS GORDIOS
Middle West Corfu, Greece
Αgios Gordios is a tourist resort near to the village of Sinarades. It is one of the most beautiful beaches of Corfu and it took its name from the church of Agios Gordios which is located literally on the sea, at the centre of the beach. This beach is a long wide sandy stretch and it finishes there where a sharp high rock stands upright on the sea (the rock is called "Ortholithi"). This beautiful cove is situated among the lush green mountain surrounded by olive tree forests, vineyards and impressive rocks.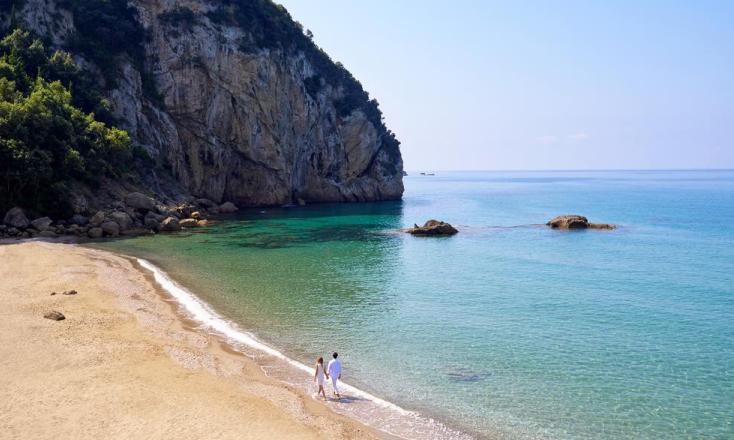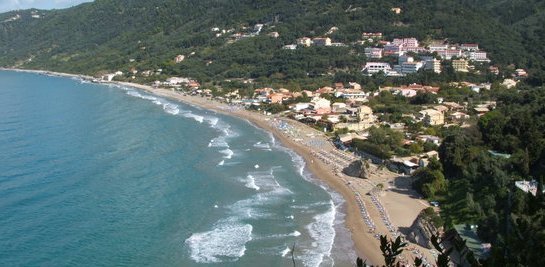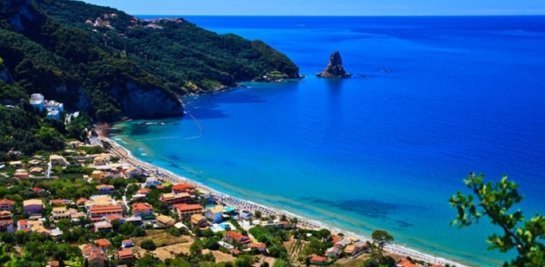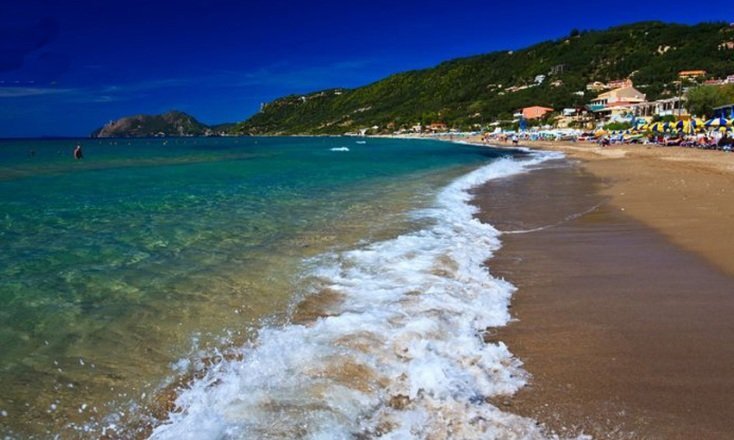 Location
Agios Gordios is situated, at the exact center of the west coast of Corfu opposite Benitses and in a distance of 14 miles from Corfu town and the I.Kapodistrias airport. Set in the middle of Corfu Island, Agios Gordios location is ideal to explore the island by car or bike.
Demographics
Agios Gordios, is a good place for families with children as the sand of the beach is fine and clean and the waters are crystal clear and warm. It is also ideal for couples or friends who wish to enjoy their holiday as Agios Gorgios is offering water sports and plenty of entertainment in the bars and tavernas along its length.
Transport
It is fairly easy to reach Agios Gordios from Corfu town by car. If you hire a car at the airport you take the left road as you coming out of the airport. You go all straight following the signs to Achillion, Kinopiastes, Kastelani, Sinarades and then to Agios Gordios. Be careful you don't get inside to any of these villages. The route takes about 25 minutes.
You can also reach Agios Gordios by bus, starting from Corfu town, with the bus service running 8 times a day during the summer months. The route takes about 45 minutes.
Things to do
The beach of Agios Gordios is a beautiful long sandy beach (about 1.5 km long) which has also private areas for nudists and to those who enjoy privacy.
On the busy part of the beach (about 600 meters) you can either relax (there are beds and umbrellas for hire) or get a bit more involved. There are boats, canoes and pedallos for hire that offer the opportunity for some explorations. Also, there is a diving center and water sports.
Moreoever, within 3 Km from Agios Gordios, there are 3 traditional Greek villages (Kato Garouna, Pentati & Sinarades) where you can go by foot through picturesque paths and enjoy the beauty of the nature.
ACCOMMODATION IN AGIOS GORDIOS