Yacht Holidays
YACHT HOLIDAYS
We travel not to escape life, but for life not to escape us
Corfu island is the northernmost of the Ionian Islands and offers the best base or the perfect starting point to discover the sun-drenched Ionian Sea. A mixture of sheltered coastal spots and more adventurous blue water stretches make Corfu an ideal destination for sailors of all abilities and hence one of the most popular destination for yacht holidays in Europe.
A sailing holiday in Corfu means you can get really off the beaten track and enjoy small bays and harbours inaccessible to large tourist boats or crews sailing as part of a flotilla. Whether you are looking to sail with your other half, friends or family at holidaysincorfu.gr you will find the most complete holiday accommodation guide for prior or after your yacht holidays in Corfu. In our website you will find the best places to stay and visit. Relax, unwind and enjoy…
The northern part of the Ionian sea is wide open to you for a yacht holiday in Corfu, our lush green island is full to the brim with amazing coastlines, perfect beaches and offers excellent sailing conditions from early spring to late autumn so any type of sailor can enjoy the natural beauty and this alone is one of the most important reasons that Corfu has attracted travellers looking for a yacht holiday for many years. From sheltered coves to open water sailing and cruising along the mainland coast, Corfu is the perfect landscape for any sailing holiday.
In addition, there 3 operational marinas at Corfu island, the Gouvia marina which is a premier marina in the Ionian, and is an ideal base from where you can explore the Ionian Sea, from the smaller islands to the north-west of Corfu, to Paxos, Antipaxos, Lefkada and beyond to the south. North of Corfu is Albania and this another distinct and varied coastline for someone to explore.
Each one of the Ionian islands, offers panoramic views from high mountain peaks, sheltered bays and sandy beaches ideal for diving and snorkelling, delicious traditional food and drink and ancient history spanning the very earliest western civilisations making it an ideal destination for yacht holidays in the Ionian sea.
Revitalising experiences, full of luxury, relaxation and authentic moments in traditional fishing ports, cosmopolitan Greek islands and unforgettable fun. From May until October the Corfiot sea is an open invitation for all! There are endless ways to get to know the Ionian sea: sailboat, yacht, catamaran. Enjoy your yacht holidays in Corfu.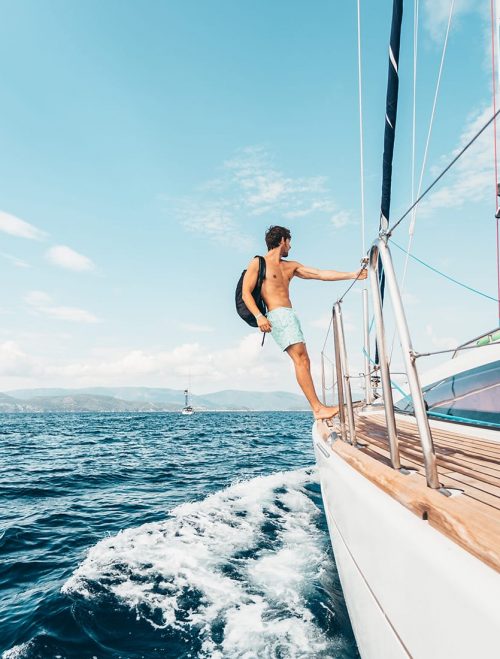 YACHT HOLIDAYS FOR SEA LOVERS
A different type of holidays
No post was found with your current grid settings. You should verify if you have posts inside the current selected post type(s) and if the meta key filter is not too much restrictive.