Adventure Holidays
Sailing, kite surfing, windsurfing, walking, trekking, island-hopping, scuba diving, bird watching… new adventures in every corner of Corfu island await for you. Adventure holidays in Corfu, do not wait, plan yours now and be prepared for an unforgettable travel experience. What makes Corfu island special and ideal for all kinds of sports all year round? Obviously the marvellous mild climate, a landscape that is four-fifths mountains and one of the longest coastlines in Europe.
At holidaysincorfu.gr, we care for the modern adventurers and hence we have prepared a list of sport and adventure activities to do while holidaying in our beautiful island. Find the best available holiday apartments around and book your adventure holidays in Corfu.
Sailing sports in Corfu
Feel the wind at your back as you sail through the Ionian sea, encountering islands populated and deserted, emerald water and private beaches.
Sea sports & Diving in Corfu
If you are an adventurer seeker there is always the world beneath the glistening waves, you can eel the exhilaration of diving deep to underwater caves, ghostly shipwrecks and colourful reefs of Corfu. The water around Corfu is perfectly clear and makes an ideal spot for scuba diving enthusiasts. Try windsurfing and kite-surfing on the south coast of Corfu, Halikounas, Issos and Saint George south are excellent locations for those activities. Learn how to waterski, wakeboard, paraglide, kite surf, and even jetski. All around the island you'll find watersport equipment rentals as well as facilities that will teach you how to have fun and stay safe out on the water.
Speedboat tours in Corfu
If you're travelling with a large group of friends or family members, speedboat tours are an exciting way to catch the island at its best. There are plenty of companies that rent speedboats so you can explore all that this island has to offer.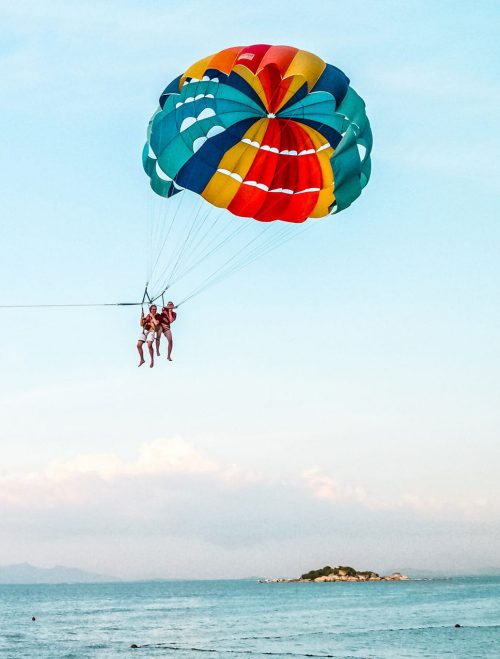 Tennis and Cricket in Corfu
Corfu island fell under British rule from 1814 to 1864, when the island became the seat of the British Lord High Commissioner of the Ionian Islands. The island became largely influenced by British culture and sports and locals developed an interest in cricket, it is said, after a match took place on St George's Day in 1823, between members of the British Garrison and the British Navy. Today, there are 11 cricket teams across the island. Another popular sport brought to the island by the British is tennis: in 1896, the Corfu Tennis Club set up Greece's first tennis courts. The club is still active today and has 4 new tennis courts in the heart of `Corfu town, offers lessons, and rents out space and equipment so get ready for a couple of sets.
Golf in Corfu
Corfu island has had its own Golf club since 1971, it is a 18 hole course, located in the heart of the island, it can be reached by car, taxi, bus or bike, is only 14 km away from Corfu town in a lush scenery in Ropa Valley.
Hiking/trekking in Corfu
Your trekking options are endless in Corfu, follow the famous Corfu trail, a 220 km long trail where you discover places that you wouldn't see on the usual tourist track. See more on (link) walking holidays in corfu
Mountain biking in Corfu
Ride through small villages, historic streets, and the gorgeous Corfu countryside on a mountain bike excursion. You can discover why they call it the 'Emerald Isle' by journeying through some of the most gorgeous backdrops the Greek Islands have to offer.
Horseback riding in Corfu
Horse riding has become a time-honoured tradition amongst holiday makers in Corfu, and is a fantastic way to take in some of the island's stunning sights. Professional horse riders will lead you on a tour through woods, meadows, villages and olive groves, letting you fully immerse yourself into the views of Corfu's mountains and expansive coastlines. You can find plenty of horse riding centers dotted around the island so get ready for an amazing experience.
4×4 tours in Corfu
Practise some off-roading with a four wheel drive across Corfu island and get ready for lifetime adventure. There plenty of private tours around the island and can give you an up close and personal adventure of Corfu, taking you on unseen scenic routes and over rocky terrain that regular cars couldn't withstand.
If you are inspired from all the activities above, don't waste time, book your adventure holidays in Corfu now using our holiday accommodation locator on our website menu. Get ready for an unforgettable experience.
UNUSUAL ADVENTURE HOLIDAYS
Explore the Island, create your own adventure