Weddings & Honeymoon
WEDDINGS & HONEYMOON
And they lived, happily ever after
You have said YES, perhaps now drain your champagne glass and tear your gaze away from your wedding ring, the big day you have always dreamed of won't happen by magic, but at holidaysincorfu.gr we can make it feel that way. From helping you to choose your wedding accommodation and sorting out holiday studios or apartments for your guests, to inspiring you with the most complete travel guide about Corfu island and what has to offer when you are planning your wedding holidays in Corfu.
Wedding holidays in Corfu can be the accomplishment of your dreams! If you have ever dreamt your wedding celebration among the lush green hills of the island, olive groves, overlooking the infinite Ionian blue sea – then Corfu is a place for your wedding holidays that will suit you perfectly. The island is big and is stretched on more than 60 km in the Ionian Sea, thus making it different from the usual Greek landscapes, Corfu town and it's architecture with cozy italian looking buildings and amazing scenery can easily compete with Tuscany and other expensive and popular wedding destinations across the globe.
Corfu has a lot to offer to couples who are looking for their wedding holidays, it offers a rich choice of wedding locations from white luxury villas hidden from curious eyes, cozy family run gourmet restaurants in the azure lagoons, and for those who appreciate bit of luxury and elegance with a touch of history to palaces and small Castello's, ingrained with the spirit of Venetian age.
Below we present you with a set of ideas as to what types of wedding holidays in Corfu can be arranged.
Beach Weddings in Corfu
Leaving footprints in the sandy beaches of Corfu with your wedding train and having your veil carried by the sea breeze make beach weddings the stuff of daydreams. They can be as low-key as you like but glorious and unique.
Religious Weddings in Corfu
Contrary to popular belief, tradition is transportable. Weddings overseas can contain as much custom and convention as those in the UK or elsewhere in the world. Catholic weddings in Corfu are possible and can take place at the Catholic church and a blessing is also possible if one of you has been baptised or christened, at the Anglican church, both also located in the Old Town of Corfu.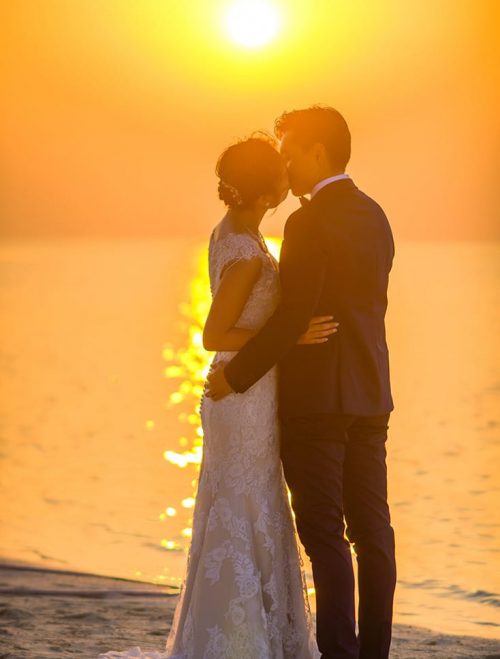 Luxury Wedding in Corfu
There are plenty of luxurious venues in the 'only the best of the best will do' bracket across the island of Corfu and that makes it an ideal destination for your wedding holiday. So if you picture a wedding in Corfu that's a push-the-boat-out, once-in-a-lifetime affair that calls for only the finest Champagne and the biggest, most luxurious, suite in the house, Corfu island offers that choice.
Renewal of vows in Corfu
Whether it is your first wedding anniversary or perhaps you have got married children of your own, there is never a bad time to re-live your big day. Maybe you had a colossal celebration back home, and want something more intimate overseas, in any case, Corfu has a lot of venues where you can renew your vows with just a congregation of olive trees, and nobody else.
Same sex weddings in Corfu
Beachfront settings in Corfu island and luxurious private villas along with pretty fresco-painted town halls in Corfu town are some of the venues for symbolic same-sex weddings and blessings.
Regardless of any of the above types of wedding holidays in Corfu, the island is really amazing for a wedding destination.
Honeymoon holidays in Corfu
A honeymoon holiday should be a magical experience filled with breath taking views, stunning sunsets and opulent surroundings. Its your time to relax, indulge and get pampered, which is why you should choose Corfu for your honeymoon holidays. A fairy tale destination in Europe, the island has a lot to offer for honeymoon holidays. If you are looking for refined sophistication and luxury on your honeymoon holidays in Corfu then you will certainly enjoy the lavish luxury choices around the island, remember, Corfu, is your intimate wedding holiday destination.
ARE YOU PLANNING YOUR HONEYMOON?
Perfect for honeymooners