Paramonas
Meet Paramonas… It might be your next holiday destination
PARAMONAS
South West Corfu, Greece
Paramonas Beach is a long sandy beach and an ideal option for a nice beach holiday in Corfu. The long beach is covered with soft sand and pebbles on the side and large rocks on the other creating an imposing surrounding. The beach is fully equipped with sun beds and umbrellas.
The water of the sea deepens slowly, so you walk just before you swim. There for is a perfect beach for children, who can play with the sand and the water. Also, at Paramonas Beach you will find some traditional tavernas, where you can have a lunch or a diner after a wonderful day at the beach.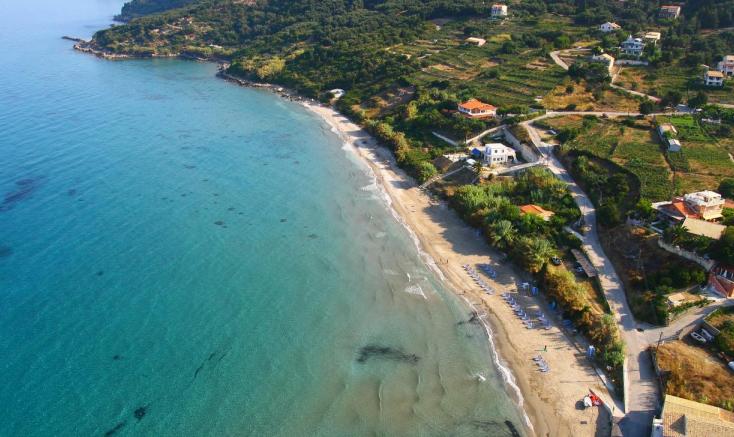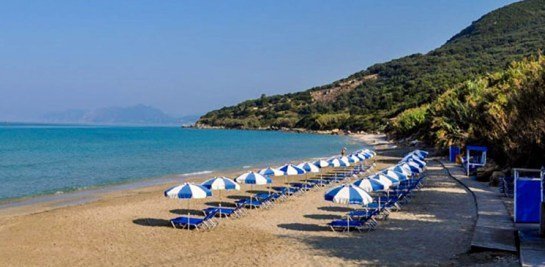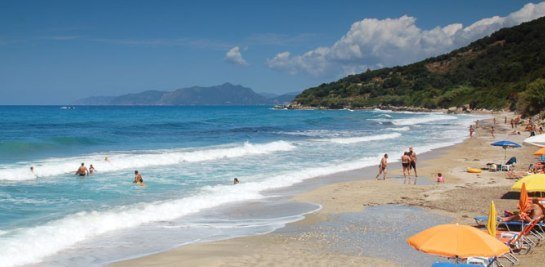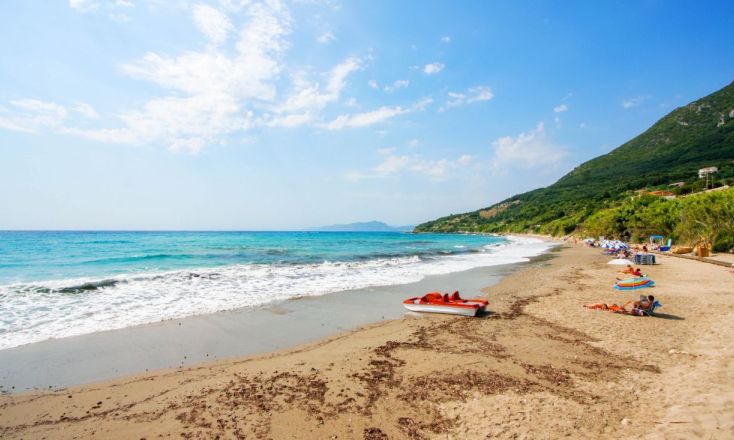 Location
Paramonas beach is located in the South West coast of Corfu, 20 km from Corfu town and below the village of Agios Mattheos.
Demographics
Paramonas is a good destination for families. The water of the sea deepens slowly. There for is a perfect beach for children, who can play with the sand and the water. It is also ideal for nature lovers, where the peaceful surroundings and the lush landscape will enchant them. Moreover, the green area is ideal for hiking. In general, Paramonas is a great place for those who want to spend their holidays in a peaceful environment.
Transport
To reach Paramonas from Corfu Town by car, take the main road Corfu – Lefkimmi. In the area of ​​the Moraitika, turn on the road to Agios Mattheos. You will eventually arrive at a point where you will see billboards for various beach destinations. You keep right here. Pass the holes for Kanouli and Prasoudi and soon you will see the signs of Paramonas (and unofficial for Paramonas Hotel). Turn left at them on the beach.
Things to do
Paramonas is located in a huge green area with many opportunities to go hiking or cycling. You will find the beneficial serenity while discovering this area of ​​Corfu. On your walks in the forest you can also enjoy the magnificent view of the Ionian Sea and the west coast of Corfu.
Sightseeing
In the vicinity of Paramonas you will find some lovely small beaches that it is worth to visit, like Prasoudi, Kanouli and Alonaki Beach. You can have a great time there and also they offer bars and restaurants, right at the sea, where you can have a drink, a good lunch or a meal.
When you have time to walk for about half an hour, you should visit Halikounas Beach. This Corfu beach is famous because of it's rare natural area. At the seaside you will find a very long stretched beach with some dunes, behind is Lake Korrison. The beach is great, but the lake and the surrounding area also. It's a perfect habitat for a large variety of singing- and waterbirds (you may even watch Flamingos), insects, rodents, rurtles and reptiles.
ACCOMMODATION IN PARAMONAS